by Terry Fuller



If you're looking for an art collective, community meeting place, and computer center, it's Creativity. An innovative space for artists from all backgrounds and levels, where free expression in all forms is welcome. Creativity offers poetry and literary readings, socio­political comedy, stand­up, new songwriters, storytelling, jazz, children's shows, free speech night, designing a web page, and workshops on writing , art, and computers. Plus it's a bookstore with new and used books on art and anything creative and a gallery for local artists.

John Gabree, the owner of Creativity, says "It's an art collective for the community. It's a place where people can connect and participate." He opened the center in December of '96. Gabree being a writer and a musician wanted to work with the community in a non-commercial space whose primary focus is nurturing creativity. However, he's done more by adding an educational resource program specializing in art and computer classes to the 4,000­square­foot space.

Some of L.A.'s best poets, comedians, songwriters, and storytellers perform at Creativity. Some professional and others just starting out. They all have one thing in common and that's performing. The stage manager and artist at the space, Kelly Knox said "The space is so popular because it's not, I repeat, not a competitive place. Anyone can participate. John created a very supportive environment."


Creativity draws an eclectic audience of film industry people inquiring about new talent and neighborhood people looking for a fun and inexpensive time. A real bonus is almost all shows are free, however donations are welcome. Also there's arts and crafts, books, and CDs for sale plus a variety of classes to choose.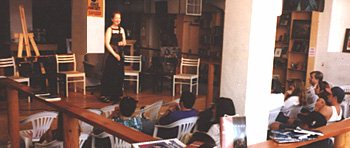 Creativity was located in
Santa Monica, CA.